Introduction to Modern Art 13/10/03 – Academies
Slide 1: Le Brun Alexander and Porus 1663-1667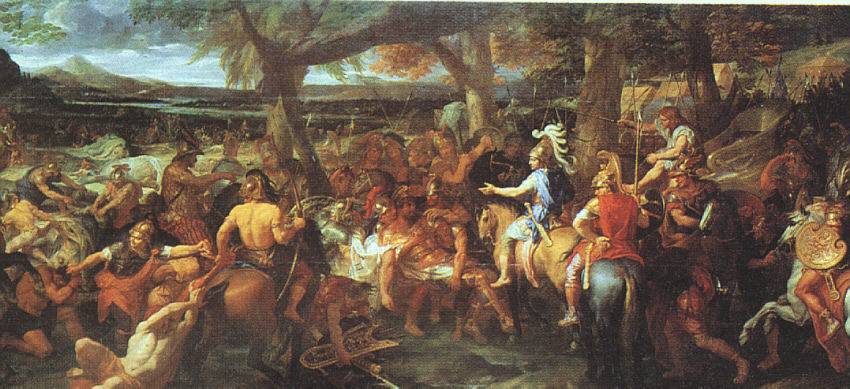 Slide 2: Zoffany The Academicians of the Royal Academy 1771-2

Slide 3: David Oath of the Horatii

Combat between 3 Horatii and 3 Century uriatii (a sister of each is married / bethrothed to the other)

Slide 4: David study drawing for woman and child in Oath of the Horatii(image not found)
Slide 5: Leighton Self Portrait 1852

Slide 6: Titian Portrait of a Gentleman 1512

Slide 7: Photograph of Millais in his studio 1886

Slide 8: Lorenzo Valles The Artists Studio
Lorenzo Valles Spain (1830-1910)
Federico del Campo was the finest painter of Venetian views in the latter half of the nineteenth century. Born in Lima, Peru, del Campo studied in Madrid with Lorenzo Valles (1830-1910), an artist who himself worked in Italy, dying in Rome in 1910.
Slide 9: Courbet The Meeting or Bonjour Monsieur Courbet 1854

Slide 10: Courbet The Painter's Studio 1854-5

Slide 11: Joubert Apollo Belvedere 1755

Slide 12: David Frieze in Antique Style 1780(image not found)
Slide 13: Couture Romains del la Decadence 1847

Slide 14: Couture sketch Romains del la Decadence 1847(image not found)
Slide 15: State purchases at the Salon of 1865(image not found)
Slide 16: Landseer Queen Victoria and the Prince Consort at Windsor 1841-45

Slide 17: Manet Le Dejeuner sur l'Erbe 1863

Slide 18: Manet sketch Le Dejeuner sur l'Erbe 1863
1863; Luncheon on the Grass; Musee d'Orsay; Oil on canvas, 81 x 101 cm
The active spirit of independance in Impressionism — if not its style — may be considered to date from this famous work, refused by the Salon in 1863 and exhibited, under the title of Le Bain at the Salon des Refusés of the same year. It is the larger of Manet 's two versions of the subject, a smaller and freer version being in the Courtauld Institute Gallery in London. According to Antonin Proust, the idea of the picture suggested itself to Manet when they were watching bathers at Argenteuil. Manet was reminded of Giorgione's Concert Champ'tre and determined to repeat the theme in clearer colour and with modern personnel. A closer likeness of composition has been found in an engraving by Marcantonio of a group of river gods, after a now lost original by Raphael of The Judgement of Paris….