Botticelli Calumny of Apelles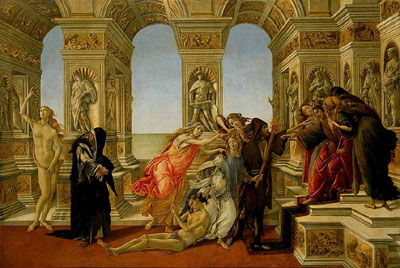 Copyright: http://www.artist-biography.info/images/114.jpg

Calumny, A false statement maliciously made to injure another 's reputation.
The utterance of maliciously false statements; slander
Italy was indisputably the cradle of Renaissance civilization, and Sandro Botticelli was one of her greatest artists. During the early part of his long career he was a painter of religious frescoes; in the mid – 1480 s he attempted a new concept in the painting of women, personifying the Goddess of Love and the Seasons, and it is for this that he is most famous; but at the end of his life he was influenced by the teachings of the reforming friar Savonarola, who denounced the corruption of society. Henceforward Botticelli abandoned the feminine beauties of his earlier work; his imagination became darker and more anguished, as we can see from his allegory of the Calumny of Apelles, one of his masterpieces. Calumny, preceded by Jealousy, drags an innocent man to the judgment throne of Midas; Suspicion and Deceit whisper in Midas 's ear, while Remorse gazes downcast at naked Truth. How distant these impassioned mortals are from Botticelli 's legendary gods basking in the sun. This is the best short example of director Ragghianti 's pioneering ` crito – film.' All aspects of the film work like an in- depth criticism of Botticelli 's painting.